[ad_1]

Donald Trump's lawyer has accused Theresa May and other European leaders of wanting Iran to have nuclear weapons.
Rudy Giuliani said efforts to salvage the nuclear deal dumped by Donald Trump suggest the prime minister and other signatories want the Islamic Republic to develop a nuclear arsenal.
He made the inflammatory comments while speaking on the sidelines of an event held by the National Council of Resistance of Iran (NCRI), which is based in Paris.
The group were previously listed as a terrorist organisation by the UK and US and which opposes the Iranian regime.
When asked by Sky News if he had a message for Mrs May concerning Iran, Mr Giuliani replied: "For the life of me I can't figure out why the leaders of Western democracies want to prop up an agreement that inevitably makes an insane dictatorship – that kills you because you practise a different religion – why [do these leaders] want them to have nuclear weapons… why won't they stand up for freedom?
"I don't understand that."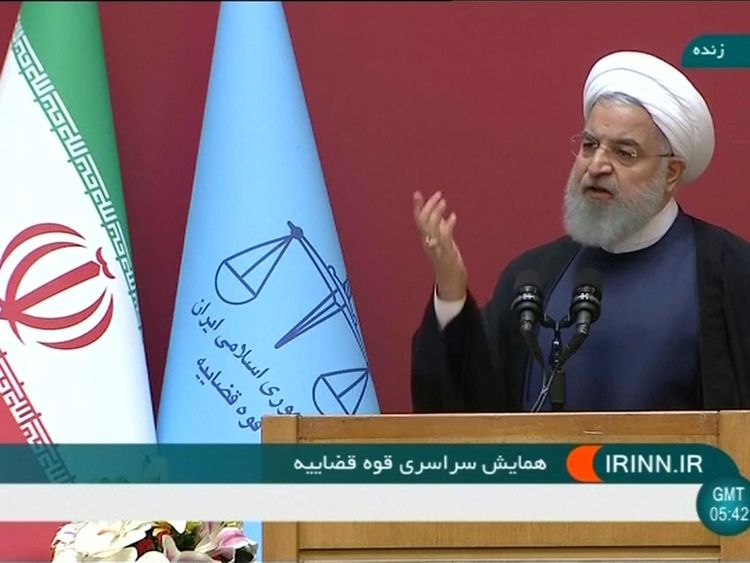 Mr Trump pulled out of the deal and criticised the Joint Comprehensive Plan of Action (JCPOA) in May, calling it "disastrous" and "one-sided".
The agreement was made between Iran, the US, UK, Russia, France, China, Germany and the EU to ensure Iran's nuclear programme was exclusively peaceful.
Then-president Barack Obama dropped some sanctions against Iran after the agreement was made but Mr Trump is now reinstating them, with many predicting the sanctions will get harsher and heavier in the coming months.
Europe is fighting to salvage the 2015 deal, which offers economic benefits to Iran in return for restricted nuclear activity, in a bid to keep a lid on bubbling tensions in the Middle East.
"Along with France and Germany, the UK continues to believe [the JCPOA] is the best route to preventing Iran from getting a nuclear weapon," Mrs May said last month.
"We will remain committed to it as long as Iran meets its obligations.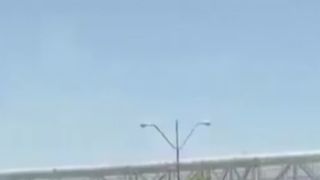 "But we do recognise that there are other issues that need to be addressed in relation to Iran – its destabilising regional activity in countries like Syria and Yemen and also the proliferation of ballistic missiles."
Iranian President Hassan Rouhani has said he expects to see a new package of measures offered by Europe soon.
Speaking on stage at the event, Mr Giuliani said "Europe should be ashamed of themselves" and warned that sanctions will get "greater and greater".
He was followed on stage by Newt Gringrich, a former speaker of the US House of Representatives, who said "we need to have a campaign to shame the European governments".
Speaking to Sky News after a smaller round table event on Friday, former FBI director Louis Freeh and former US attorney general Michael Mukasey made comments which chimed with Mr Giuliani's and suggested Europe will eventually drop the deal because of economic pressures.
Mr Freeh suggested Europe was too busy with the migrant problem to get a handle on protecting companies from Mr Trump's secondary sanctions, which would hit European companies which violate US restrictions on doing business with Tehran.
He also said "economically it's a disaster" for Europe and "an embarrassment".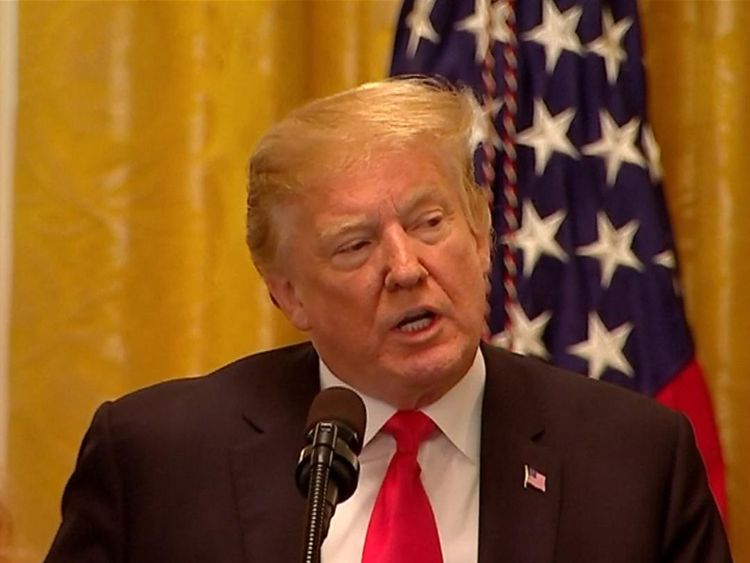 Mr Mukasey, who believes Europe is affected by pride over the deal, said that European countries will not want to be hit by sanctions and that pressure will cause the bloc to abandon the deal.
He also said that with the UK leaving the EU, Mrs May "will be more free" to make her own decisions regarding the deal.
Mr Giuliani, who said he was attending the event in a personal capacity and was not speaking on behalf of the Trump administration, also told the 25,000 strong crowd "this president doesn't turn his back on freedom fighters".
Mr Trump's lawyer also told reporters that although he no longer continues to, during Mr Trump's campaign he raised the case of this opposition group with Mr Trump and that he hoped the leader of the movement would be visiting the US for a tour within 12 months.
Maryam Rajavi, the leader of the People's Mujahdeen of Iran (MEK) and president-elect of the NCRI, has been accused of being a ruthless leader of a cult which militarily supported Iraqi dictator Saddam Hussein, but supporters say she hopes to liberalise Iran through changes such as the abolition of the death penalty.
On Friday, Mr Giuliani and Ms Rajavi had a private meeting and posed for photos together.
After the rally on Saturday ended, he and other senior US dignitaries attended a private dinner at her residence.
[ad_2]